Summer is finally here and that means longer days, warmer nights and tons of fun in the sun! What better time to grab a few of your best friends and plan a girls' weekend getaway?
Whether your perfect weekend getaway involves days at the spa, camping (or glamping) off-grid, or big city adventures, there are a few must-haves items you can't forget on any weekend getaway with the girls. Not sure what those are? Don't worry, we've got you covered! Keep scrolling to see our must-have list of girls' weekend essentials!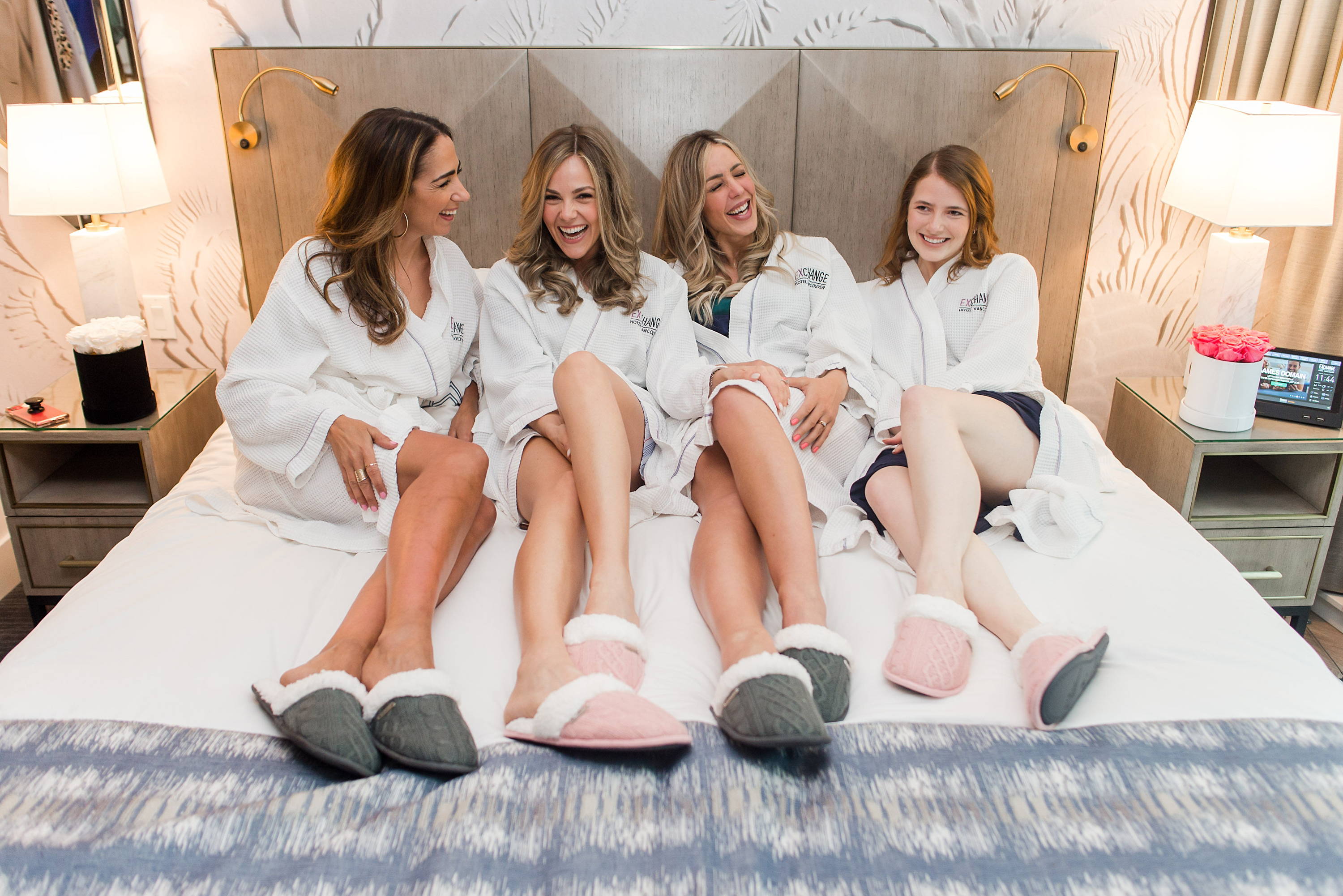 So now that you've decided on your destination and booked your accommodations, it's time to get packing. If you're anything like us, we tend to overpack and end up lugging things around unnecessarily. It's always good to cut back on those extraneous items that will probably just end up sitting in your bag all weekend, but be careful not to leave behind the essential items!
For every girls' weekend getaway be sure to pack the following items:
For every girls' weekend getaway be sure to pack the following items:

1) Snacks - Without a doubt, snacks are a make or break item when it comes to a girls' weekend getaway. No one wants to be two hours into a road-trip and feel their stomach start to grumble, only to realize there's still three hours left in your journey. Trust us, you do not want a car full of hangry friends.
Before you leave on your trip do a quick run to the grocery store together so you can each pick out one of your favorite snacks and then share! We recommend choosing snacks that are high in protein so they keep you satiated for longer. Things like roasted almonds, granola bars (we absolutely love KIND bars) and edamame beans will keep your hunger at bay so you can focus on enjoying the journey to your destination!
2) Portable Speaker - Nothing impacts a mood more than music. If you're getting ready to party, throw on some old-school Spice Girls and the entire room is bound to start singing and dancing. If you're preparing a tropical brunch, play a little Jack Johnson and it'll settle perfectly into the background while adding a relaxing, warm feel.
A portable speaker is an absolute must on any girls' weekend. We recommend bringing a speaker that's rechargeable and operates by bluetooth so that any one of your friends can easily toss on some tunes! Bose has some great options to choose from
3) Slippers - You've finally arrived at your destination and it's time to kick off your shoes, change into comfy clothes and start relaxing with your friends. One way to ensure maximum comfort is to bring a pair of high quality slippers. Not only will they protect your feet from any hotel carpets (because let's be real, we know those can't be very clean) but they're also the perfect accessory to keep you nice and cozy. Pudus Slipper Socks' extra plush faux-fur lining and non-slip grippers, are perfect for movie-watching, sitting by a campfire or sharing a wine and cheese board with the girls!
If your destination is somewhere warmer, however, Slipper Socks are going to be far too hot. You're going to want something that keeps your feet protected, but also doesn't make you too hot. Why not give a pair of Pudus Cottontail Flip Flop Slippers a try? Not only are they extremely comfortable with their memory foam inserts, but they also allow your feet to stay cool and breathe!
4) Disposable Camera - It's so important to capture special memories with your best friends so you can look back on years to come. A camera is always necessary on any trip, but your absolute best option is one that's disposable. The most important thing about capturing memories is to first create those memories.
If you're stuck on your phone the whole weekend, scrolling through TikTok or Instagram, you're not making any special memories with your friends. Put the phones away and focus on spending quality time together! With a disposable camera, you'll be able to reach for it, snap a pic and then put it away. It's not a distraction, it's small and compact, and it'll give you all an excuse to get together again shortly after the trip to develop the film and go through all the photos! You never know how they'll turn out.
You can find some great disposable cameras on Amazon, like this KODAK FunSaver 35mm!
5) Lounge Wear - A girls' weekend is the best excuse to put on a great outfit and go out and have some fun! But after a delicious dinner and a night of dancing, we all know the feeling of walking in your front door and immediately wanting to kick off those uncomfortable (but trendy) shoes and unbutton those extra-skinny jeans.
There's nothing better than changing out of an uncomfortable outfit and putting on some loungewear to end the night munching on snacks and laughing with your friends. Shop the Pudus Faux Cashmere Loungewear here for the most comfortable and luxurious loungewear sets!