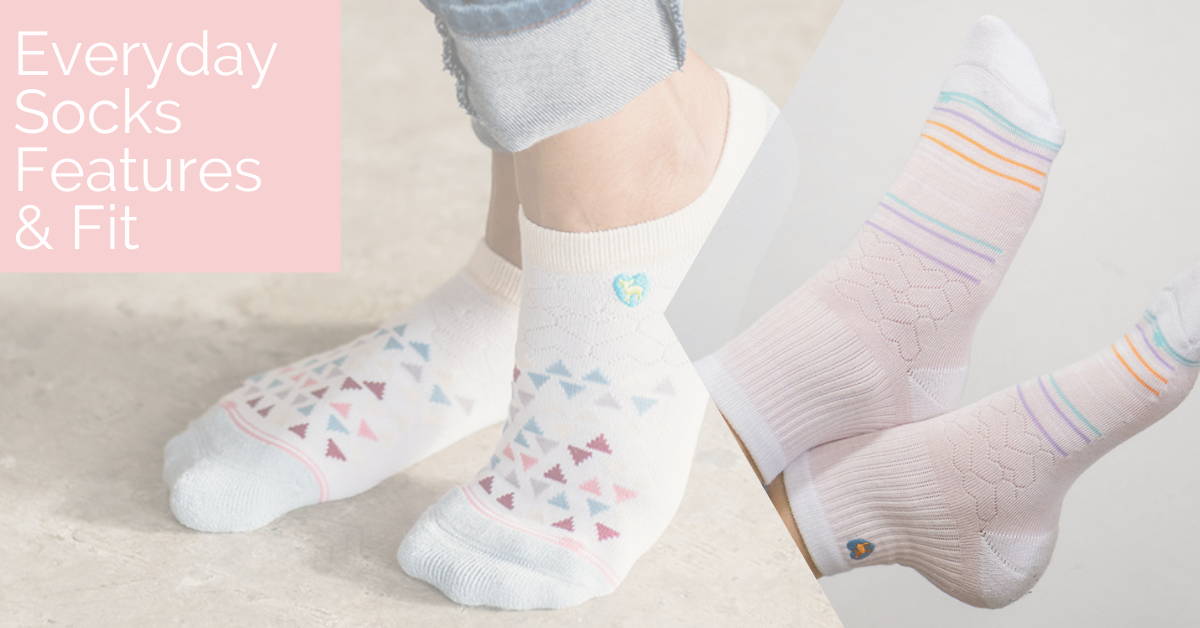 Is there anything worse than uncomfortable socks? It may not seem like much, but if you're always having to adjust your socks in your shoes because they bunch up around your toes, or they slide down resulting in blisters on your heel, it is a constant annoyance!
Here at Pudus, we know socks. We understand what features a sock needs to ensure all-day comfort and practicality. That's why we created our Everyday Sock Collection! With all the fun patterns and designs, you might be surprised to learn that this collection wasn't just designed to be stylish. In fact, this collection was designed specifically for comfort, practicality and everyday wear. 
Keep reading to learn more about the features that make our Everyday Sock Collection so special!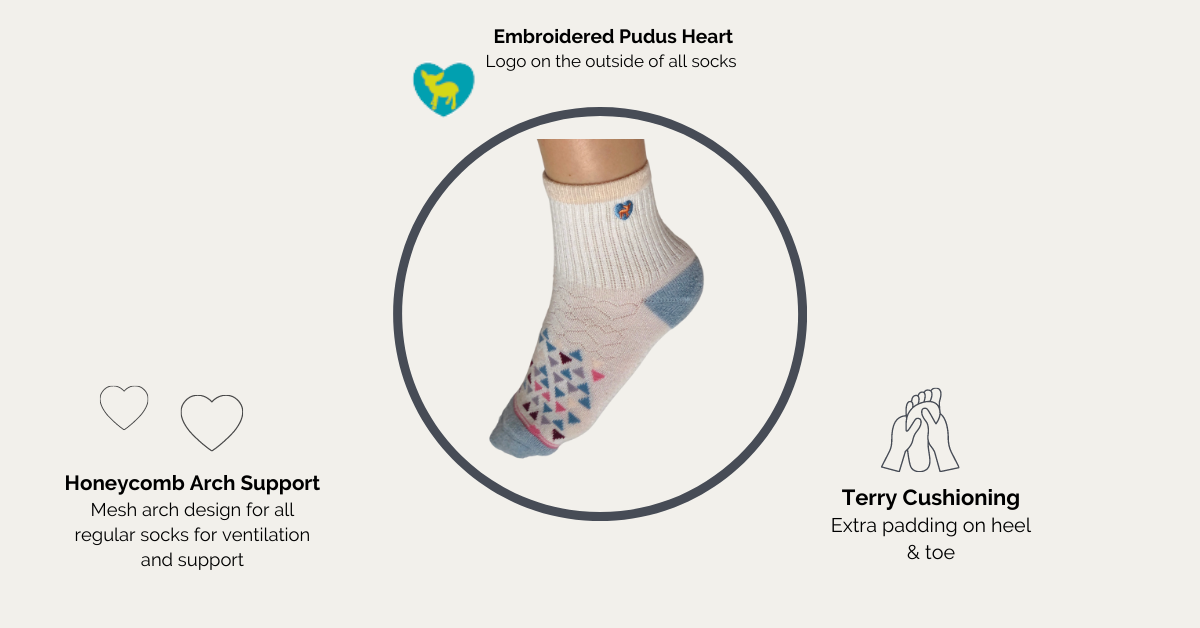 A lot of thought went into designing the Everyday Sock Collection. We knew we wanted to make socks that people would reach for every single day, regardless of the occasion. From our PudusSoft Bamboo Socks that are breathable and great to wear during a workout, to our Almost Naked Lace Liners to wear with heels on a night out, we've got you covered.
Here are some of the special features that our Everyday Sock Collection has that will make them the socks you reach for time and time again:
1. Hand-Linked Seamless Toes - All of our regular Everyday Socks have seamless toes which means your toes won't have to worry about getting irritated throughout the day. The seamless toes on our socks ensure your feet stay comfortable all day despite your feet rubbing against the inside of your shoes. This is perfect if you have sensitive toes, or you just love an extra comfortable pair of socks.
2. Natural Bamboo Material - PudusSoft Bamboo Socks are made from bamboo which is a natural, sustainable and eco-friendly fibre. They have natural antimicrobial properties that combat smell and ensure a natural breathability to keep your feet feeling cool and fresh all day long.
3. Honeycomb Arch Support - The mesh arch design on all regular Everyday Socks promote ventilation and breathability, and provide natural support to the arch of your foot. This is simply another feature that ensures our Everyday Sock Collection has the most comfortable socks available on the market.
4. Terry Cushioning - PudusSoft Bamboo socks have terry cushioning on the heel and toe to ensure your feet are always comfortable. For a little extra comfort, the Pudus Go-To Cushioned Comfort Socks have terry cushioning on the heel, toe and across the entire bottom so they are extra padded and cozy. This helps protect your feet throughout the day to ensure discomfort in your feet isn't holding you back from taking that extra shift or going on that long hike.
5. Ultra Fresh Antimicrobial Treatment - To ensure your feet stay feeling and smelling fresh, every pair of socks in the Everyday Sock Collection is treated with an ultra fresh antimicrobial treatment to provide effective odor protection. With this antimicrobial treatment, you can go from a morning walk to the office without skipping a beat.

6. Anti-Slip Silicone Bands - No-show socks are notorious for slipping down and getting lost in your shoe. But not at Pudus. We've added an anti-slip silicone band on the inside of the sock band and heel area on all of our no-show socks. This extra silicone grip ensures our no-show socks stay in place all day long so there is no need for adjustments.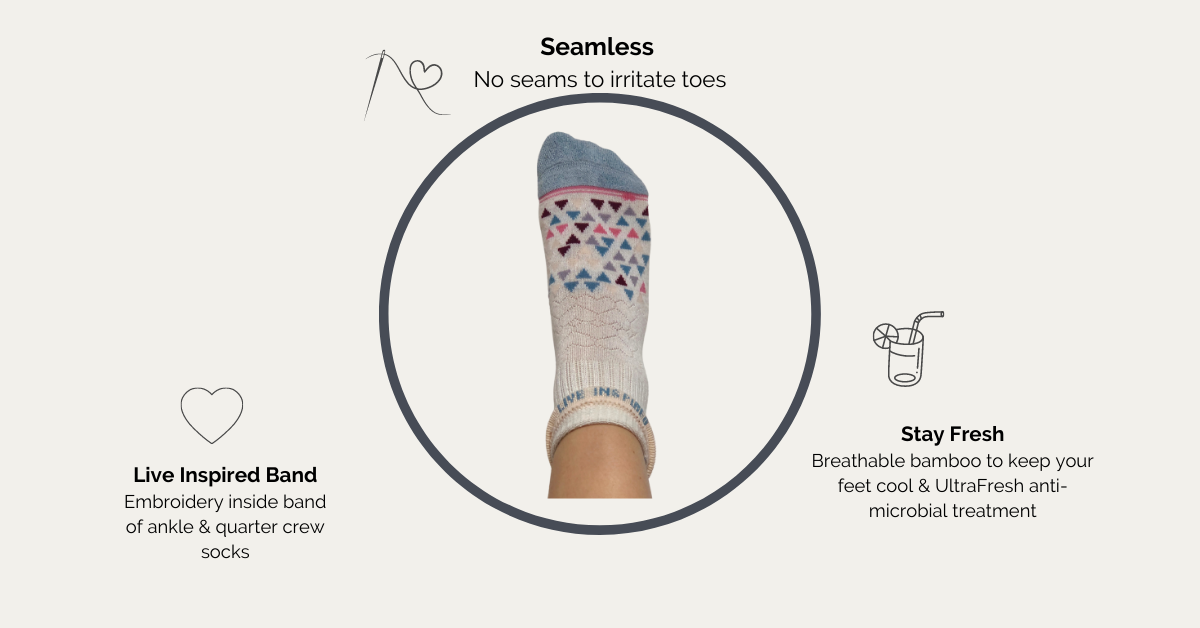 Now that you've learned about the special features the socks in our Everyday Sock Collection have, you know that comfort is a priority for us at Pudus. What is also incredibly important to us is giving back to the community. That's why we created the Pudus Project.
For our first official Pudus Project partnership, we are partnering with Covenant House, a non-profit organization that supports youth who are at risk or are experiencing homelessness.
Socks are the most requested clothing item at homeless shelters, so for every pair of PudusSoft Bamboo Socks and Pudus Go-To Cushioned Comfort Socks purchased from our Everyday Sock Collection, we will donate a pair of socks to youth who are at risk or are experiencing homelessness.